If enrollment managers are going to successfully meet the needs of prospective students and encourage them along the applicant journey, they need to understand the best marketing and tools available to them.
This resource will explore how enrollment professionals can utilize these tools to understand a prospective student's applicant journey and nurture them toward application.
Understanding the Applicant Journey in 2020
It's no secret, the graduate student of the 21st century is different from previous generations. Technology, which has been seamlessly integrated into their daily life from their toddler years, has shaped their understanding, processing, and consuming habits from day one.
If enrollment managers are going to meet the needs of students and encourage them along their applicant journey, they need to understand the best marketing technology and tools available to them. Not only will these tools maximize their efforts, but they will also provide insight into the mind and behaviors of the 21st-century applicant.
By not taking advantage of the marketing technology tools and resources available on the market today, it can be challenging for enrollment managers to understand where prospects are coming from, what channels are best at converting qualified inquiries, and, holistically, what efforts are generating the greatest return on investment.
This resource will explore how enrollment professionals can utilize these tools to understand a prospective student's applicant journey, and nurture them toward application.
Table of Contents:
How Are Prospective Graduate Students Searching for Graduate Schools Today?

When Selecting a Graduate School, What Matters Most to Prospective Students In 2020?

Helping Enrollment Managers Understand the Applicant Journey

There Are No Stealth Applicants: How Enrollment Managers Can and Should Strive for a 360 Degree View of the Application Journey in 2020
How Are Prospective Graduate Students Searching for Graduate Schools Today?
The ways in which we research products — everything from buying a car, to evaluating paid streaming services, to deciding which organic vegetable is most appropriate for our children — has fundamentally changed. We search for products and services in a more conversational way then ever before. We ask Alexa for the weather, we tell Google to search for the nearest coffee shops, and Siri can recommend the fastest route home when our regular commute is clogged. These search habits, these digital quests for educational content, are congruent with how today's prospective graduates think about and research graduate school.
When thinking about online recruitment strategies, many enrollment managers focus on creating digital content that is too academic and/or professional in nature. They target long-form keywords and keyword phrases that are clunky, jargon-filled and sometimes too specific — Learn More About WVU's Online IMC Graduate Program.
Instead, enrollment managers need to think like prospective students search. They should focus on creating content and target keywords that are more conversational in nature — "best graduate communication programs near me". This is the language prospective graduate students are using. Now, let's examine some of the tools they are using in their search.
What Tools Are Students Using?
The majority of students begin their search for a graduate school with an online search. Most know their area of interest and perhaps even a degree that they would like to pursue. Their google query looks something like this: Master of Business Administration Degree Programs.
Social Media also plays a significant role in a prospective student's search. Combine the prevalence of social media use among 22-40 year olds, with the number of ads that are generated on all social media sites and this tool distinguishes itself as effective for both the student and the school.
Students also network through their contacts established during their undergraduate degree. If a student is considering pursuing a master's degree, many speak to their undergraduate professors and ask who is doing research and publishing. These contacts usually lead them to others within the field and help them locate promising places to begin their search.
Some students choose to utilize their undergraduate career resource library, consulting with career counseling professionals while still in undergrad studies.
Direct mail is not altogether dead, students interested in a particular school or program will request resources to review from specific graduate schools.
What Online Databases and Content Hubs Are Students Using?
With so many prospective graduate students beginning their search online, the use of databases and content hubs have become increasingly popular, and the mainstream method of college searching.
Some online databases such as Princeton Review, Gradschools.com, and Gradtrek provide the user with a database of tens-of-thousands of graduate degrees and certificates. Students can begin their search under very specific parameters, narrowing their results by field of study, location, student population size, student to faculty ratio, online/hybrid options, and many more criteria. They can continue to refine their search until they find the programs that meet their needs.
Other databases like Gradschoolmatch.com and Petersons take a different approach. Although these sites allow users to search and filter according to their interests, they are known for using customized algorithms to match students with schools in a two-way search. Using data points, such as the student's academic background and interests, and the algorithms pair students and schools according to best fit. In this conversational approach schools can reach out to students and visa-versa.
The Role of Social Media in the Search Process
Facebook, LinkedIn, Twitter, Instagram – prospective graduate students are constantly engaging with and scrolling through these social media sites consuming content. When students first begin their grad school search, most begin with a quick survey of social media to gain a glimpse into a school's culture, and to quickly see what the school highlights in terms of program awards, unique offerings, and upcoming events.
Today's graduate students find authenticity in social media, and so they often turn to this tool to see what a potential school is "really like." Social media is also the place students go for quick answers to questions about financial aid, application deadlines, and test requirements.
But students are not the only ones who are using social media in the grad school search process. Schools are also attracting prospective students through their content offerings. Social media is a space where prospects go to consume content such as photos, videos, and blog articles. Graduate Admissions Team's who have solid social media strategies are content producing machines — promoting quality resources like career guides, scholarships, graduate assistantships, and more. This successful social media strategy relies on enrollment managers regularly publishing and promoting educational content that converts followers into program inquiries.
Institutions can also use targeted ads to appear on a student's feed, offering the student a direct opportunity to engage with this content. Targeted ads use certain criteria to appear specifically to candidates that would be a good fit for the school. Schools are able to set their own criteria, such as location, interests, education level, and job title – to help their ads only appear to the most promising candidates. Schools establish these criteria by working from defined personas. These personas are created based on the school's current student population, and data collected from applicants over the years.
When Selecting a Graduate School, What Matters Most to Prospective Students In 2020?
It seems like it would be difficult to narrow down exactly what matters most to each prospective graduate student, but it is not! By utilizing advanced marketing technology platforms such as HubSpot, institutions and enrollment managers can view their prospects' patterns of behavior and engagement. By analyzing this information, enrollment managers can determine what likely matters to an individual and can then begin providing a specifically tailored content and outreach plan, that will nurture them toward application.
For example, through HubSpot you (an enrollment manager) see that one particular individual has returned several times to your Master of Computer Science program page, and they have also visited the financial aid page and filled out a form to request more information. Based on this information, it would be wise to send them your digital resource on the Master of Computer Science program, and a friendly email inviting them to check out three of your blogs on financing their graduate degree.
Read on for more information about how you can determine, and act on, what matters most to a prospective grad student in 2020.
The 2020 Graduate Student Rubric
What matters to each particular graduate student is different based on their needs, interests, field of study, and many other factors. The best way to tell what is most important to prospective students, is to track their movements within your website and learn from the pages they spend the most time on, the content they interact with, and the resources they download.
Although the order of these factors could vary greatly from student-to-student, this encompasses what generally matters the most to prospective graduate students:
Curriculum
Cost
Research Opportunities
Internship/Field Placement Opportunities
Current Student Recommendations
Industry/Alumni Network
Location
Available Student Resources/Facilities
Closeness of Community
Faculty Qualifications
Student's Expectations of Institutions
When a student is researching and vetting a potential graduate school, there are several things that they expect of the institution. It is important for enrollment managers to take these factors into consideration when designing their website, creating content, and mailing prospective students information.
Students expect, first and foremost, ease of access to information. If a student has to spend a great deal of time and effort trying to locate the information they need – they will most likely move on to another website and another school. It is crucially important that all a school's online resources are developed and organized with user experience in mind.
Leveraging Marketing Tech: If a user is a contact that already exists in your school's CRM, and their session time is less than 30 seconds, trigger an email that asks if their questions have been fully answered.
Prospective students also want to see clarity of program requirements and outcomes in the beginning stages of their grad school search. Student's want to know exactly what (and how long) it will take to graduate, and what kinds of professional prospects they will have upon graduation.
Leveraging Marketing Tech: Create a smart list that pulls in all contacts in your database who search for "program requirements/outcomes" on your website or highlight these words with their computer mouse (yes, you can do that!). Then create a workflow — using your marketing automation platform — that sends these folks 2-3 alumni testimonials about the short term and long term ROI of the particular program.
With rising student debt and the financial concerns that many current graduate school applicants have in these areas, transparency of cost and readily available information about financial aid have become a standard. Student's expect to know what a degree will cost them, and how much the school is willing to lighten their load.
Leveraging Marketing Tech: Create a premium content resource on "How to Fund Your Graduate Education" or "Understanding the Real Cost of A Graduate Education" and then launch a Google Ads campaign that targets queries around graduate school cost and financial aid.
Students also value immediate and personalized responses from an admissions team member when they have a question, or make an inquiry into a program. Many of these responses can be customized and automated using tools such as chatbots (more on that later) and workflows. These tools lighten the load on the admissions office staff, while ensuring that prospects receive the attention they expect.
Leveraging Marketing Tech: Install a chatbot on your admissions home page and design algorithms to gather prospects' contact information and data about the what they are looking for. Then create automated workflows to follow up with the prospect and offer them 3-5 blog post suggestions on their program of interest.
Markers of Success: Important Outcomes to Highlight
In the world of higher education marketing, there are several different ways to measure success, and countless different markers that can be set to evaluate the ROI of your investments. It is important to set benchmarks and develop processes to measure progress, so that your marketing strategy can be adjusted to maximize its potential. Here are just a few important markers that enrollment managers should flag as relevant indicators of a successful marketing strategy:
Site Visits
Site Engagement
Leads Generated
Conversions
Applications
The Importance of Information Sessions in the Decision-Making Process
Information sessions, both on and offline are crucial steps in a potential student's decision-making process. Attending an information session indicates a student's level of interest in that particular program, and gives the faculty and admissions staff the chance to interact personally with students. This is beneficial for both the students and the school, as it helps each to determine if they will be a good fit for the other.
Typically, graduate schools report that 50 percent of prospects who come to an information session, eventually apply to the program or school. If enrollment managers are able to nurture a prospective student to the point that they choose to attend an in-person or virtual event, this is a huge win and an indicator of a highly effective marketing enrollment strategy.
Helping Enrollment Managers Understand the Applicant Journey
How to Use Marketing Technology to Lead Score
To have an effective marketing enrollment strategy, it is important to differentiate between individuals (or "leads") that are most likely to turn into applicants, and those who are simply browsing your resources or website. This is where lead scoring comes in. Lead scoring uses a customized set of criteria to assign a value to each lead. This marketing technology then ranks the leads based on the amount of information they've provided and their interactions with your brand, and helps you to prioritize the most promising leads and increase efficiency.
So how is lead scoring technology helping enrollment managers? Well, say you have collected data through your website and other offline interactions, on a pool of 10,000 individuals. It would be impossible to follow up with each individual person, not to mention inefficient. Not every one of those 10,000 is likely to apply, some may have come to your site and left quickly, some might have requested more information but then never responded to your follow up, and some might have downloaded several resources and registered to come to an information session.
Each of these groups and individuals should not be seen as the same. An effective marketing enrollment strategy separates each individual into a different tier, based on their calculated likelihood to apply. Based on their ranking, they are nurtured differently through their journey. This allows you to offer "smart" content and personalized attention to the individuals with the highest lead scores, and assigns various workflows to follow up with less promising contacts.
Using Chatbots to Identify the Best Leads
Higher Education Marketing has called this current generation a hyper-connected generation. Societal trends, a rise in the prevalence of social media, and ever-advancing technology drive prospective students to seek their answers online and through quick, easy access resources. Chatbots are a relatively new piece of marketing technology that is helping enrollment managers and prospective applicants to get the information they need in this quick and efficient manner.
Chatbots help the user quickly receive the information they are looking for, without sorting through an archaic, 5,000+ page university website. This technology is also helping enrollment managers reliably and efficiently qualify a lead and convert them into an inquiry. Chatbots are highly customizable, and therefore are excellent tools for lead scoring.
Here's a quick example of what this could look like: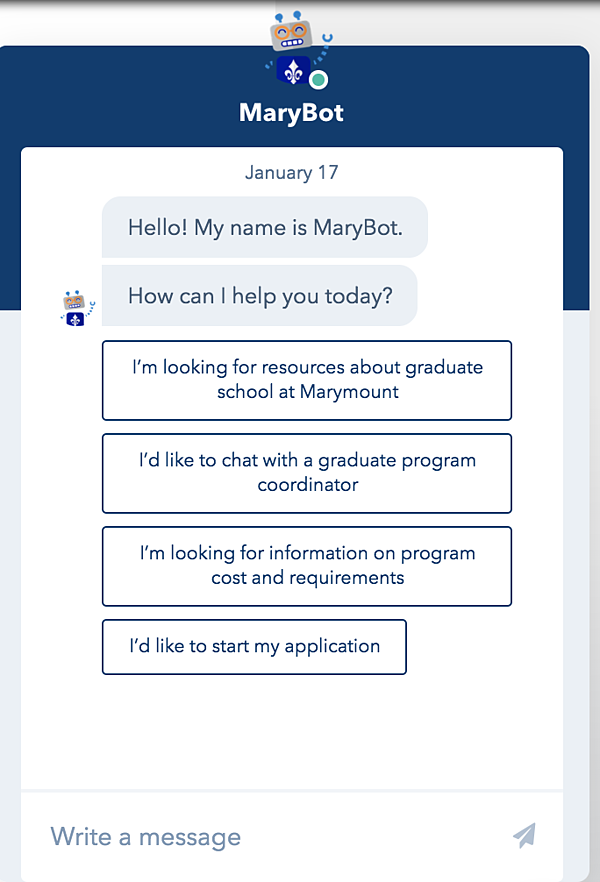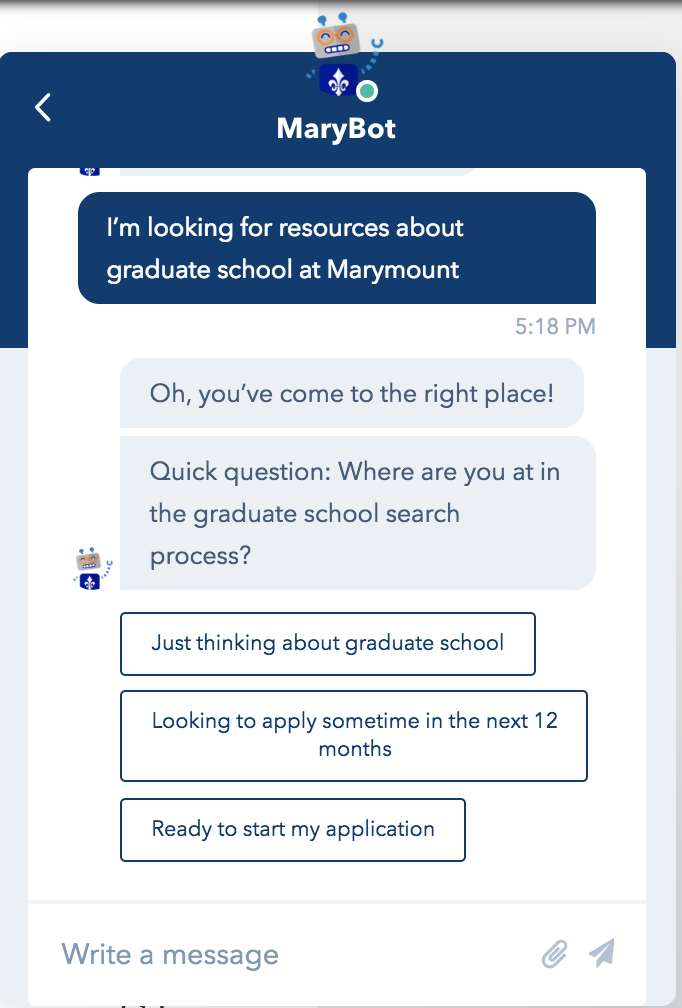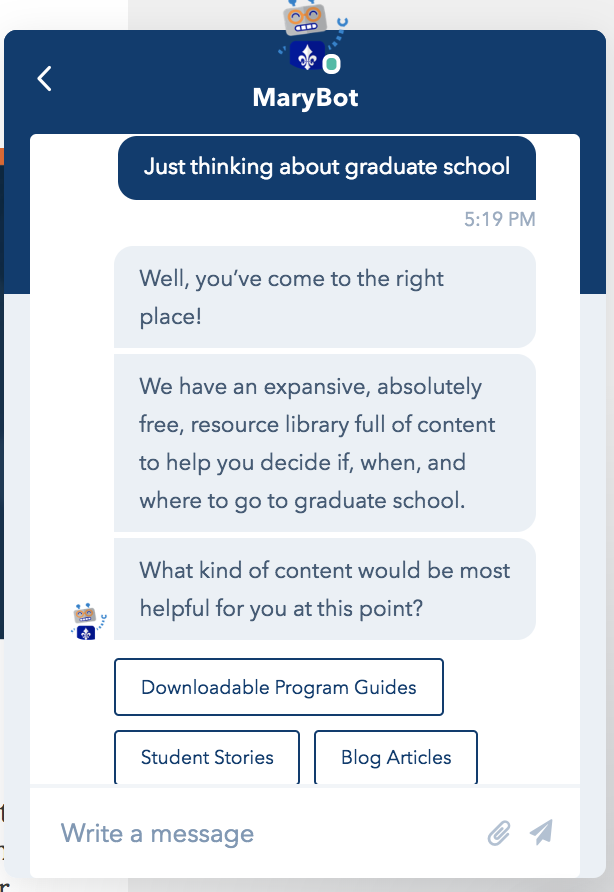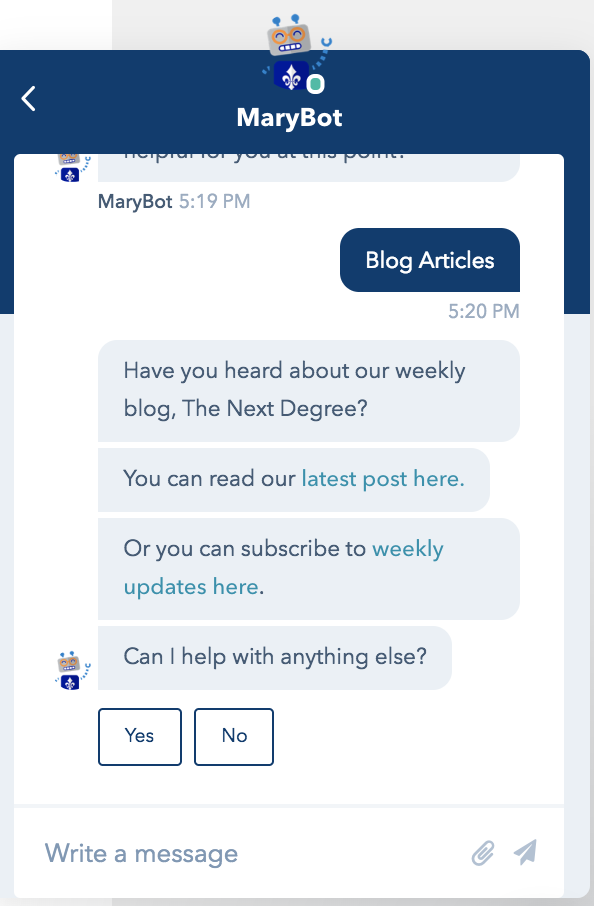 The graduate enrollment managers seeing the most success with these tools are the ones who provide the user with pathways at all three stages of the applicant journey — it's crucial to create a pathway for a user who is just starting to consider graduate school and looking for resources on career outlooks and outcomes, as well as the user who is ready to start their application.
Due to the engaging and interactive nature of chatbots, enrollment teams often see a 2-3x increase in new lead conversion over traditional landing page or website page conversions!
Tracking Behavior and Making Informed Decisions
To develop the most effective marketing strategy, enrollment managers should utilize Marketing Automation Platforms to track behavior, and collect and analyze data. To develop a complete picture of an applicant's journey, it is not enough to simply track email opens and clicks. There are several additional important metrics that will provide enrollment managers with more detail, including web page visits, website sessions, and blog views. These metrics relay the behavior of the applicant, and can help enrollment managers to specifically and personally assist them in their applicant journey, as well as predict the behavior of future applicants.
Marketing Automation tools also help enrollment managers gain insight into what matters most to a prospect. These tools leverage helpful, meaningful content to attract prospects and encourage them to engage with the school. Once a prospect has crossed the conversion threshold and provided the school with information, HubSpot helps users to personalize their website and outreach to prospective students through nurturing pathways.
Using machine learning and artificial intelligence, HubSpot enables enrollment managers to make the best use of their time, and most effectively connect with prospective students. Enrollment managers can leverage these insights to inform their communication flows, by activating a trigger sequence, in which automated responses are generated based on qualifying actions. Using this technology, they can also inform graduate coordinators which leads are the best to personally connect with through outreach channels such as follow-up texts and emails. This technology can also provide and predict tangible metrics that can be presented to a board of directors and VPs, such as predicted application numbers, yield rate, and class enrollment.
There Are No Stealth Applicants: How Enrollment Managers Can and Should Strive for a 360 Degree View of the Application Journey in 2020
Although graduate schools still report many "stealth applicants," or prospects that seemingly come from nowhere, enrollment managers using contemporary marketing technology should encounter ZERO of these applicants in 2020. This technology tracks and reports on the digital footprint of each student throughout their application journey. Collecting this data is essential to gain a complete view of the applicants' journey from initial contact to application.
There is an increasing amount of pressure on enrollment managers to spend resources in sustainable, ROI-generating ways. When these admissions professionals are able to tell the full story, from the data of both digital and analog footprints, they will be able to understand: their pipeline, the content topics and formats that generate qualified applicants, and which channels and traffic sources perform the best, from a lead-conversion and app-generation standpoint.
Graduate enrollment managers need a state of the art marketing technology platform, in order to access these insights. These systems can, and should, integrate with an institution's CRM or SIS to be able to understand the unique digital pathway of every student. In seconds, enrollment managers should be able to access the following information:
The first time a student visited an institution's website, and what traffic source they came from.
The first time they became a contact – and what form, event, or downloadable piece of content enticed them to provide their information.
What website pages they viewed

before

applying.
How many times they interacted with each of the university's social media profiles.
How many different times they came back to the website after they applied, and before they enrolled.
Ready to Get Started?
It's 2020 and it is time to start marketing graduate education to prospective students differently! Fortunately, advanced marketing technology tools make it easy to understand the applicant journey and customize your marketing enrollment strategy to get the greatest ROI.
To get started, check out some of our free digital resources that will help guide you as you ramp up your enrollment marketing strategy!
Enrollify Resources
You can also check out these helpful HubSpot resources:
HubSpot Resources
---
Click here to read this article on the Enrollify website.