Introducing the Most
Engaging
Interactive
Immersive
Connected
Virtual Campus Tour Ever!
When prospective families can't come to your campus, take your campus to them.  And give them an interactive experience they will never forget.     
Engage Your Audience With Interactive Features That Bring Your Virtual Campus Tour To Life
Your actual campus is full of life.  Your virtual campus tour should be, too.  We've seen too many boring, empty, lifeless classrooms and hallways in most virtual tours to literally put us to sleep.  First impressions last.  Make your first impression incredibly impressive!  Help your prospective families experience what makes your school so special by sharing with them the excitement that makes your school such a great place to attend.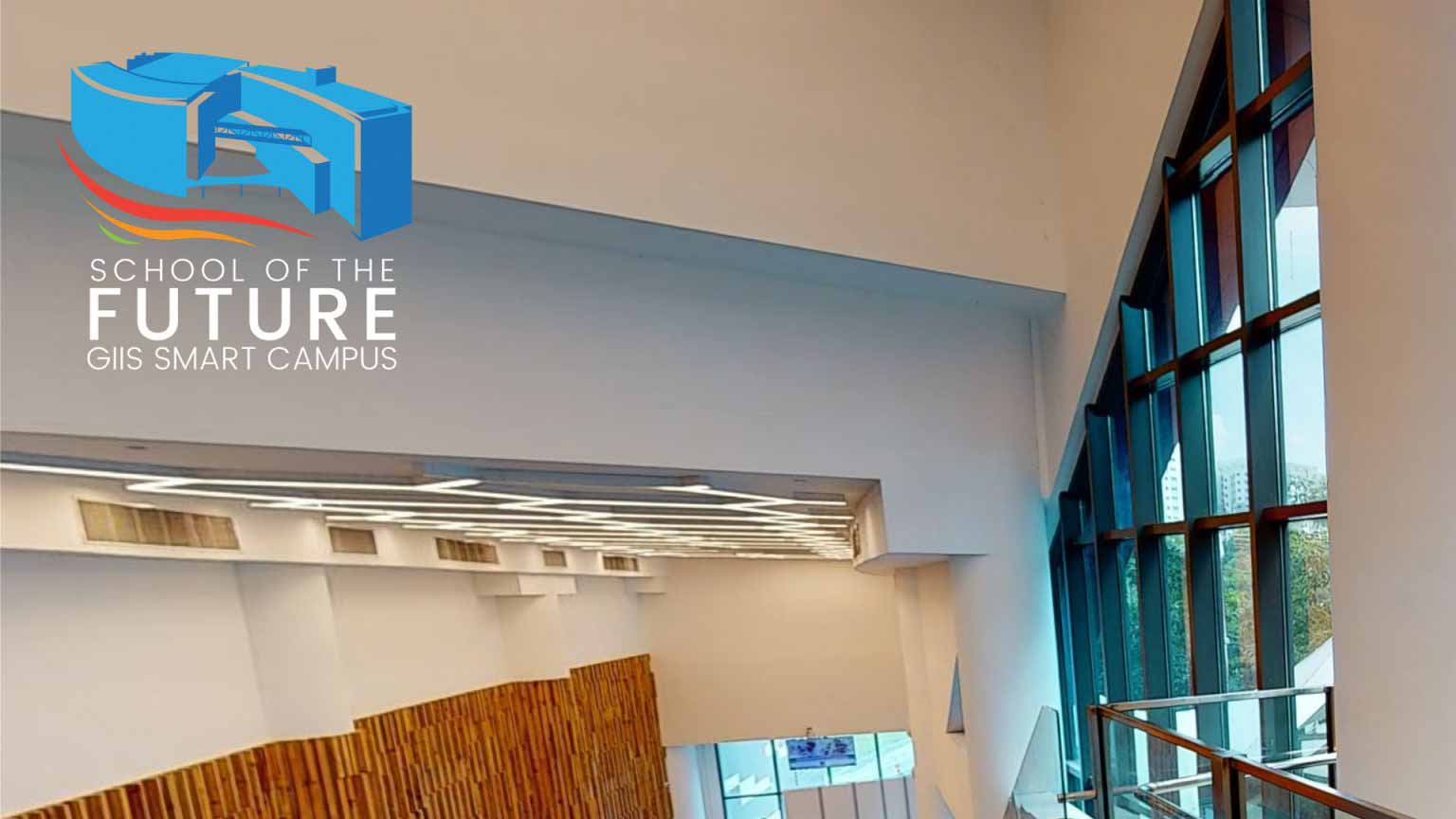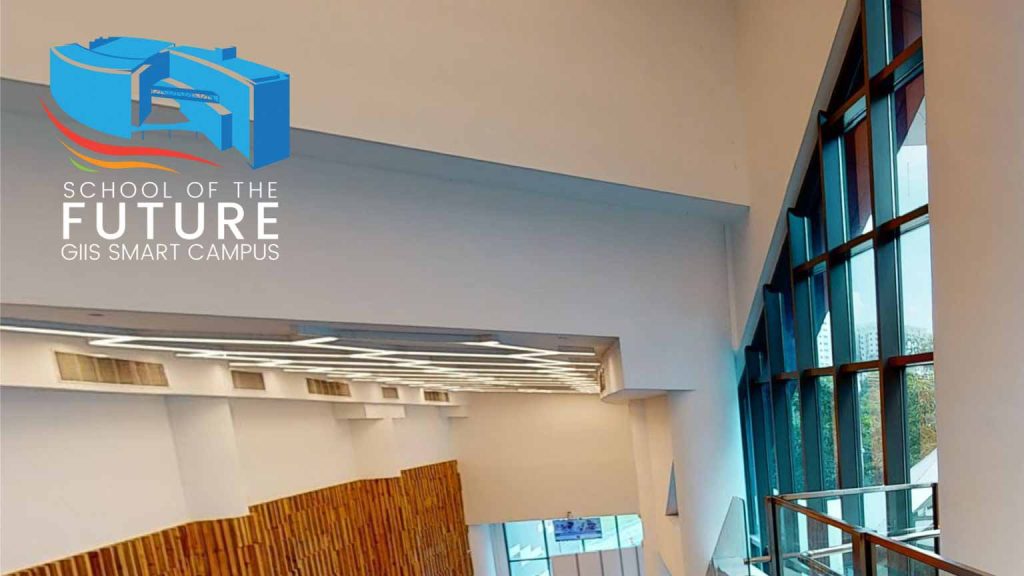 A branded, customised experience to match the uniqueness of your school
Enhance your 360 virtual campus tour with logos, colours, and customised elements that match your school's unique branding.  Make your virtual campus as unique as your actual campus.
Our easy to understand menu is the start of your tour.  It can contain introductions, videos, photos, and text to prepare and orient your guest to make the most of their experience.  It expands to show or hide each section and completely hides when you want a broader view.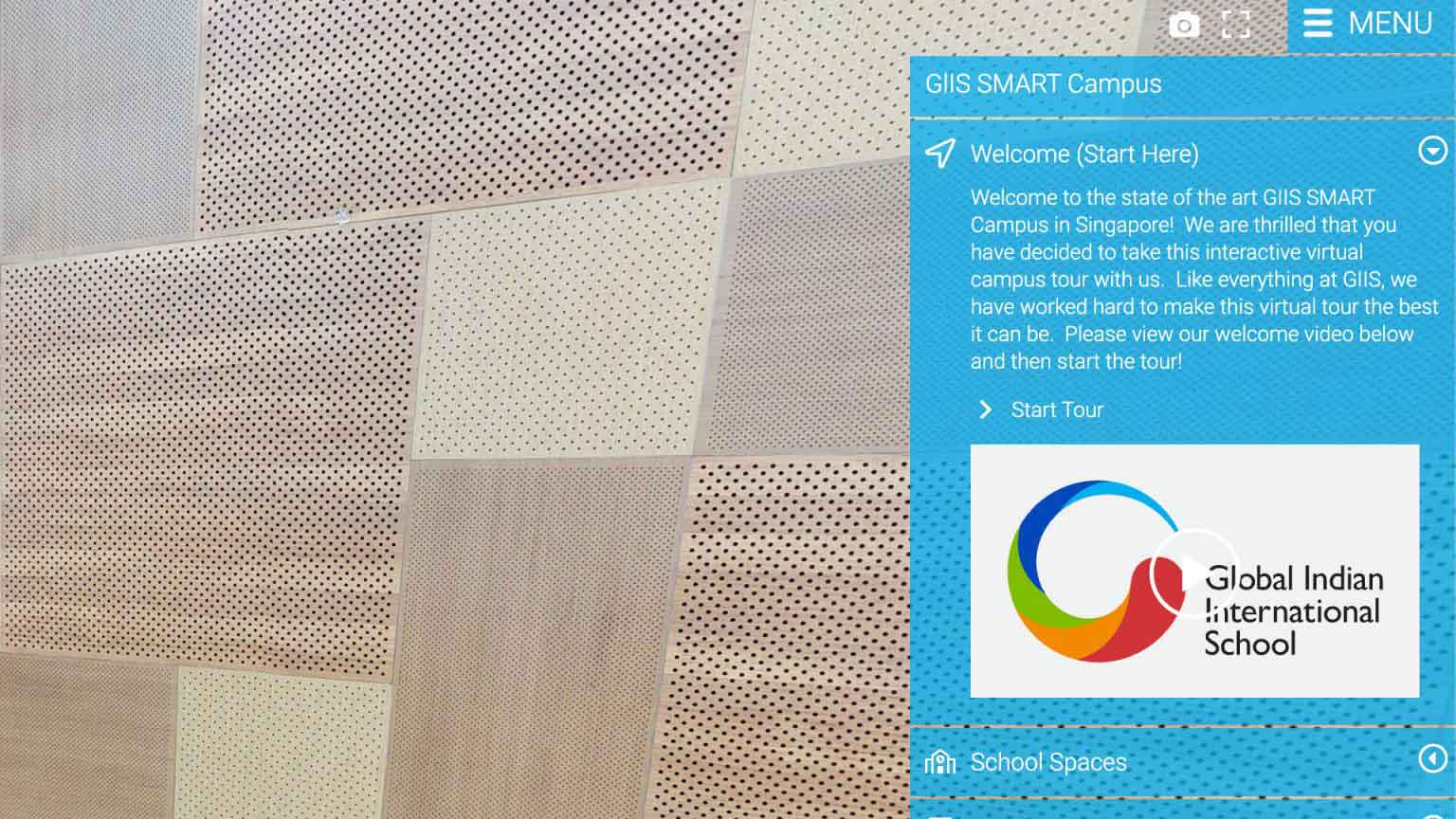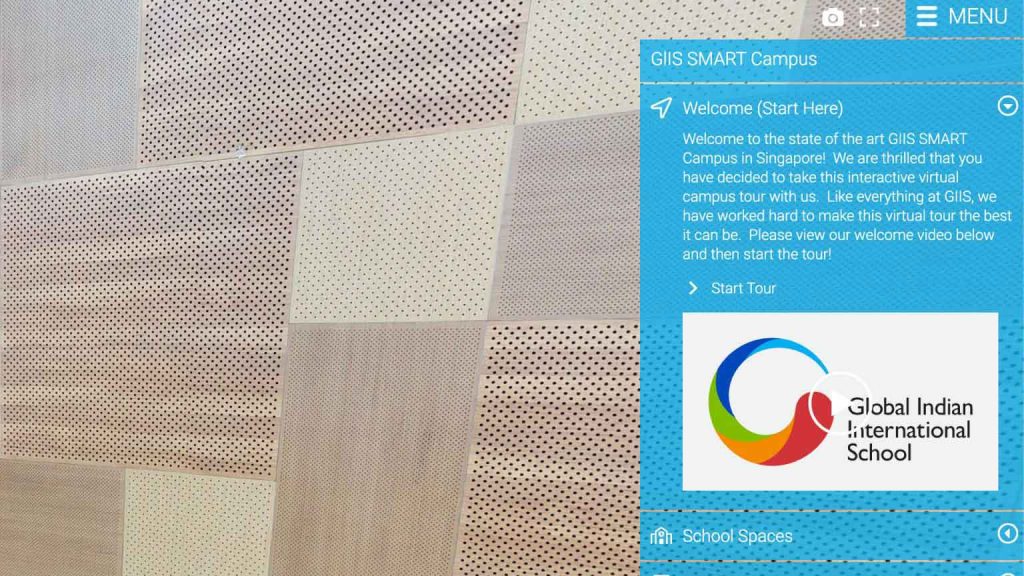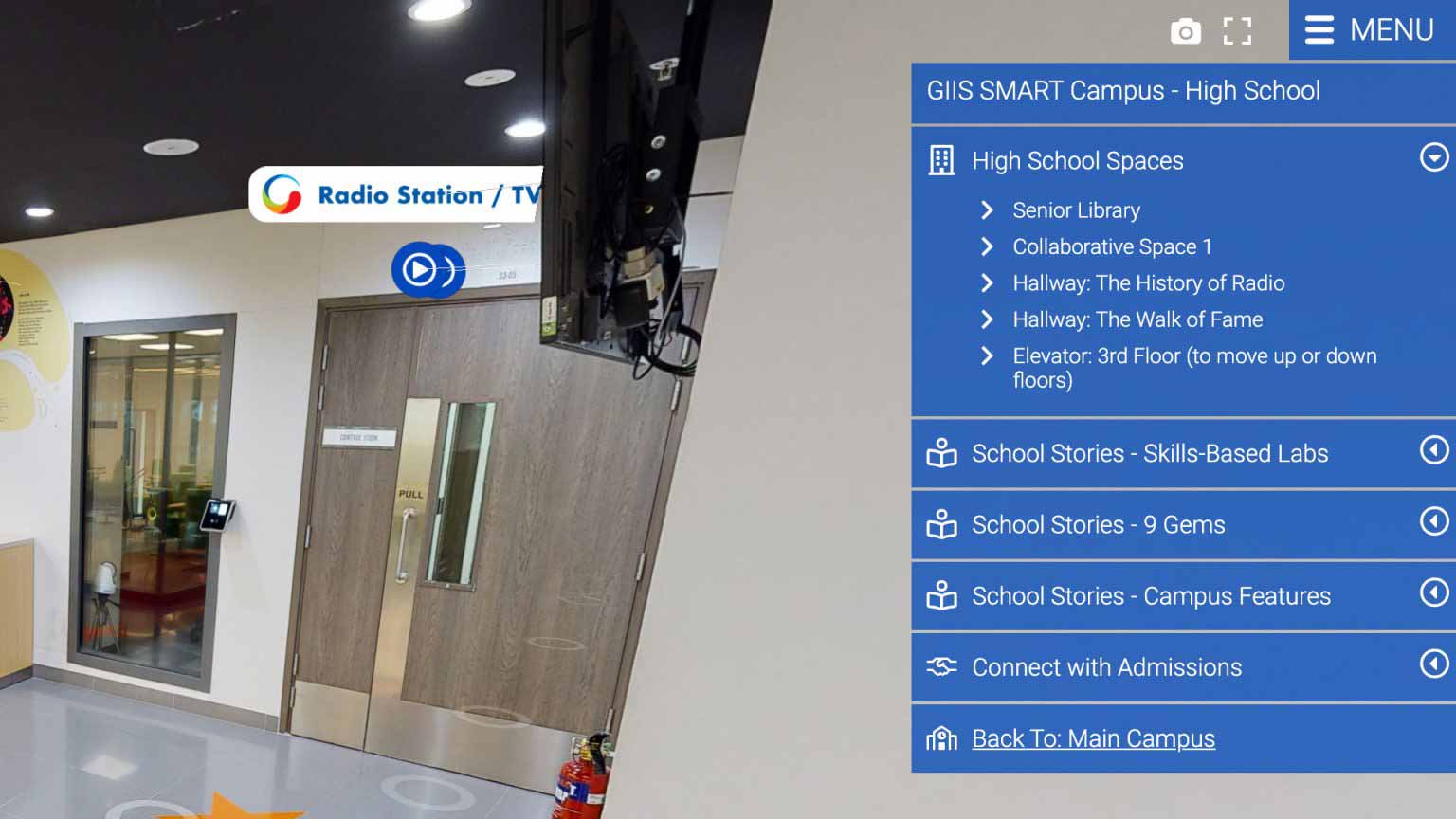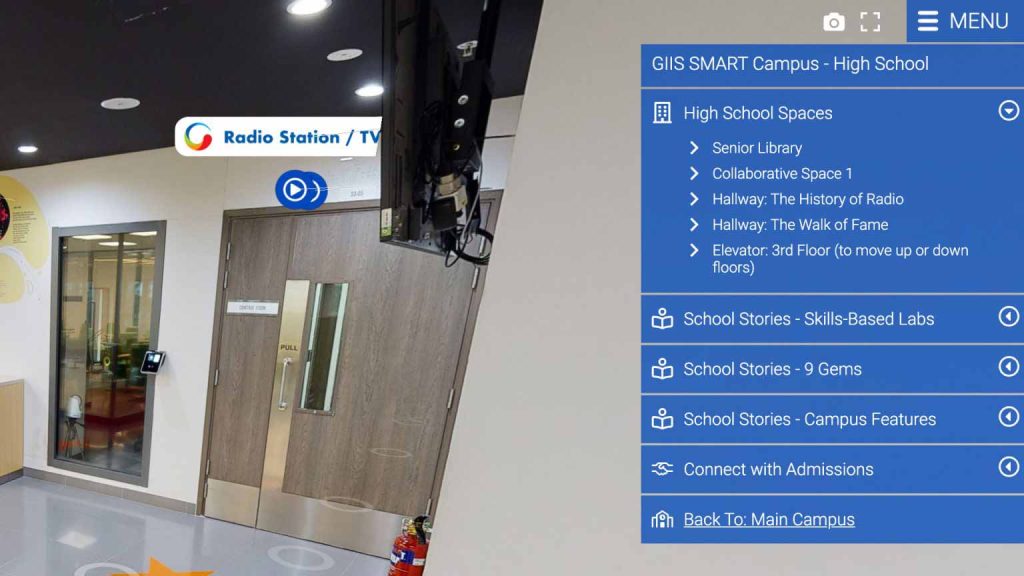 A variety of tours to fit your style
Different people like to learn in different ways.  Some want to be guided and some enjoy exploring.  Let your guests choose what kind of campus tour they want to experience: personalised, guided, self-guided, or free and easy.    
Explore spaces just like you do in real life - by walking
Some tour technologies force you into the centre of a room and spin you around until you are dizzy. Our virtual campus tours let you explore just like you would if you were there – by walking. Get up close to artwork on the walls, see what's down a hallway. Open doors. As realistic as it gets.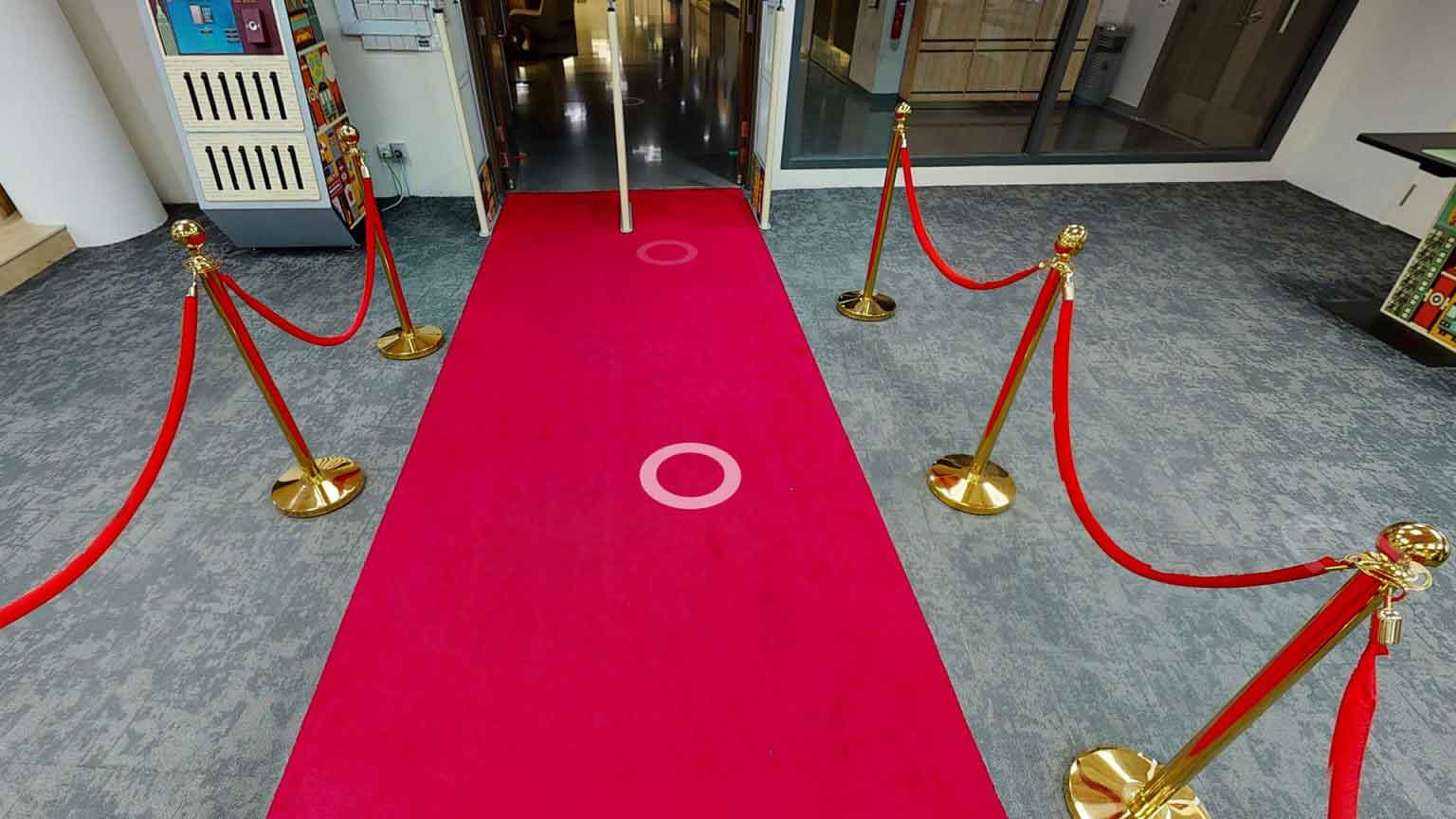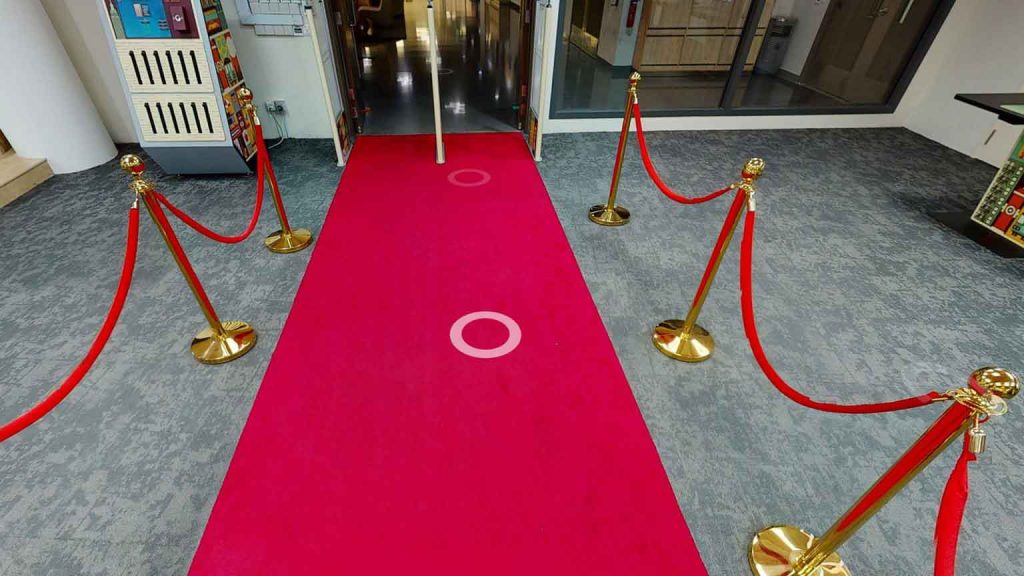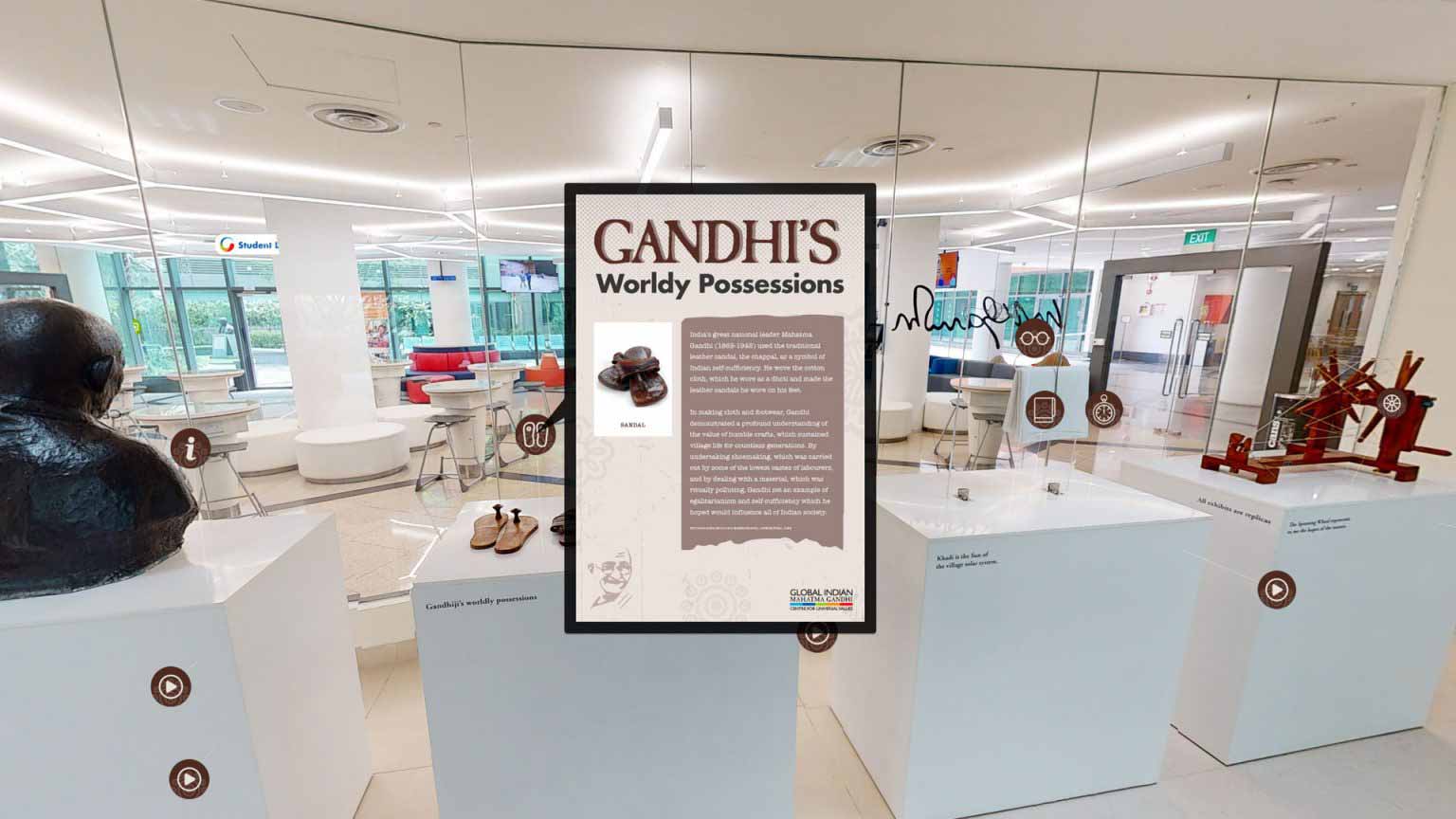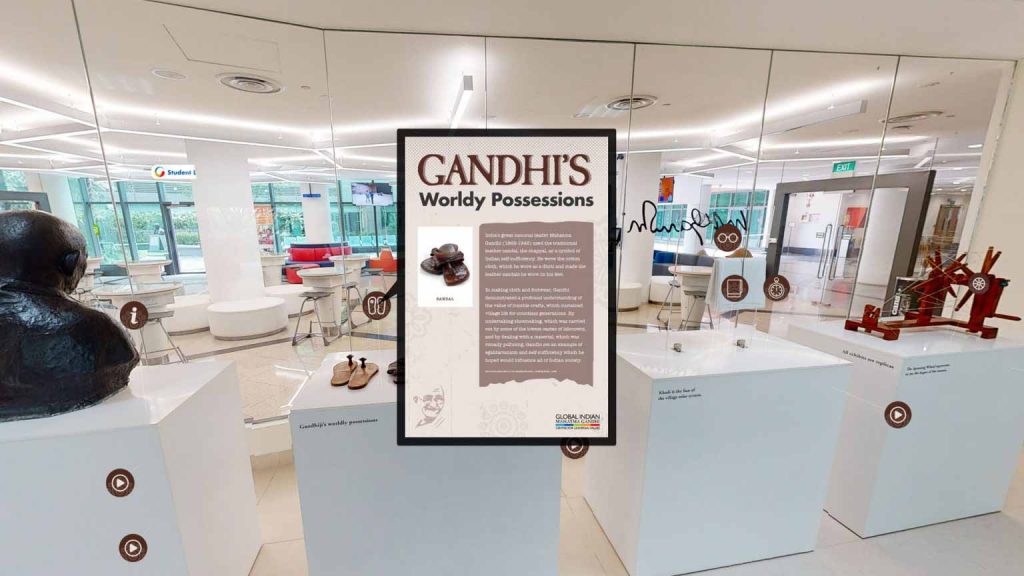 Custom brand unique spaces
What are the spaces in your school that are really one of a kind?  Do you have a history wall or a mini-museum or a place that is very unique?  We can custom brand that part of your tour to enhance your guests' experience.  
At the heart of what makes your school unique are the special school stories that you have to tell.  Share these stories while guests are exploring your virtual tour.  Highlight them in the menu and then follow them during the tour.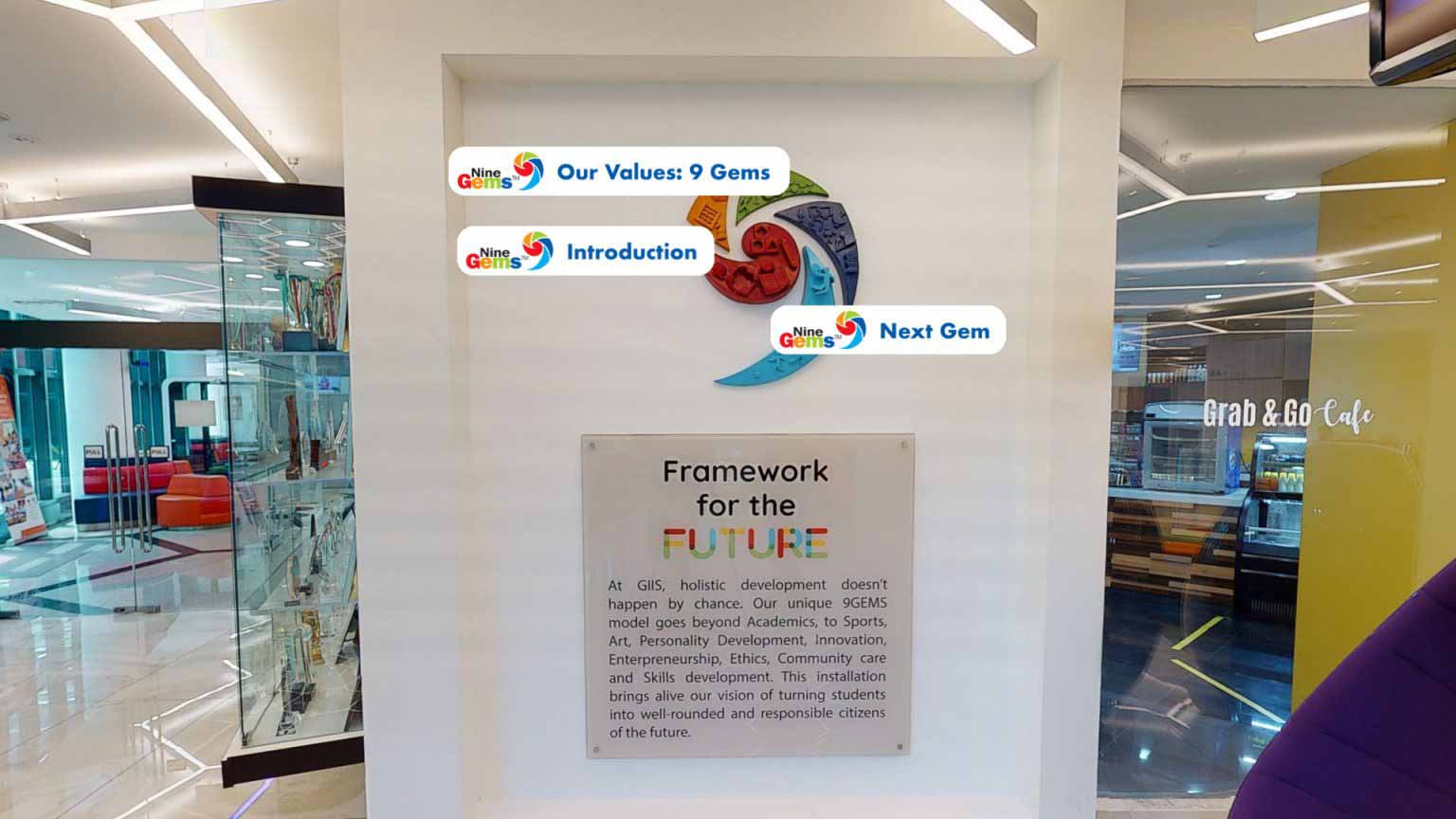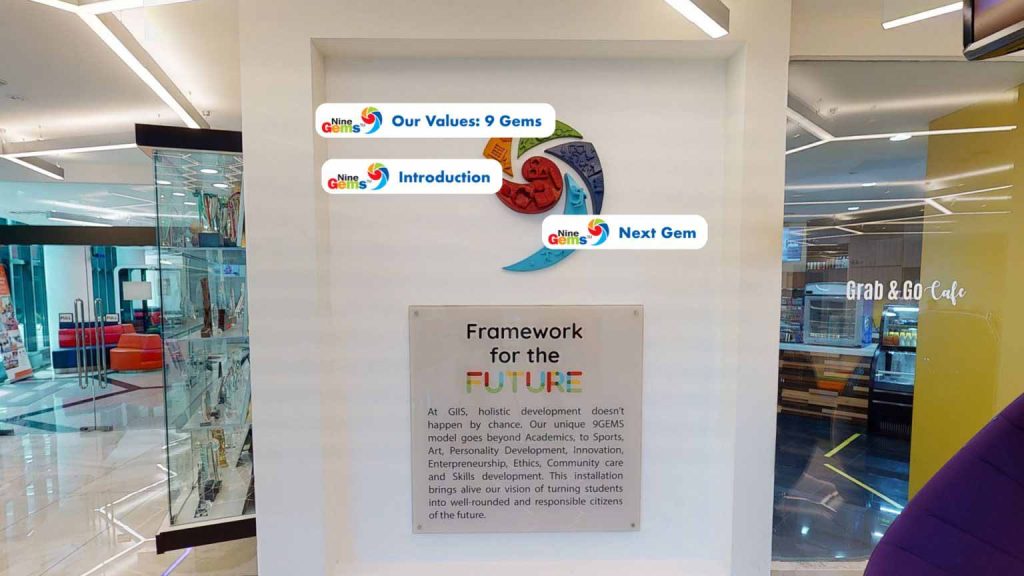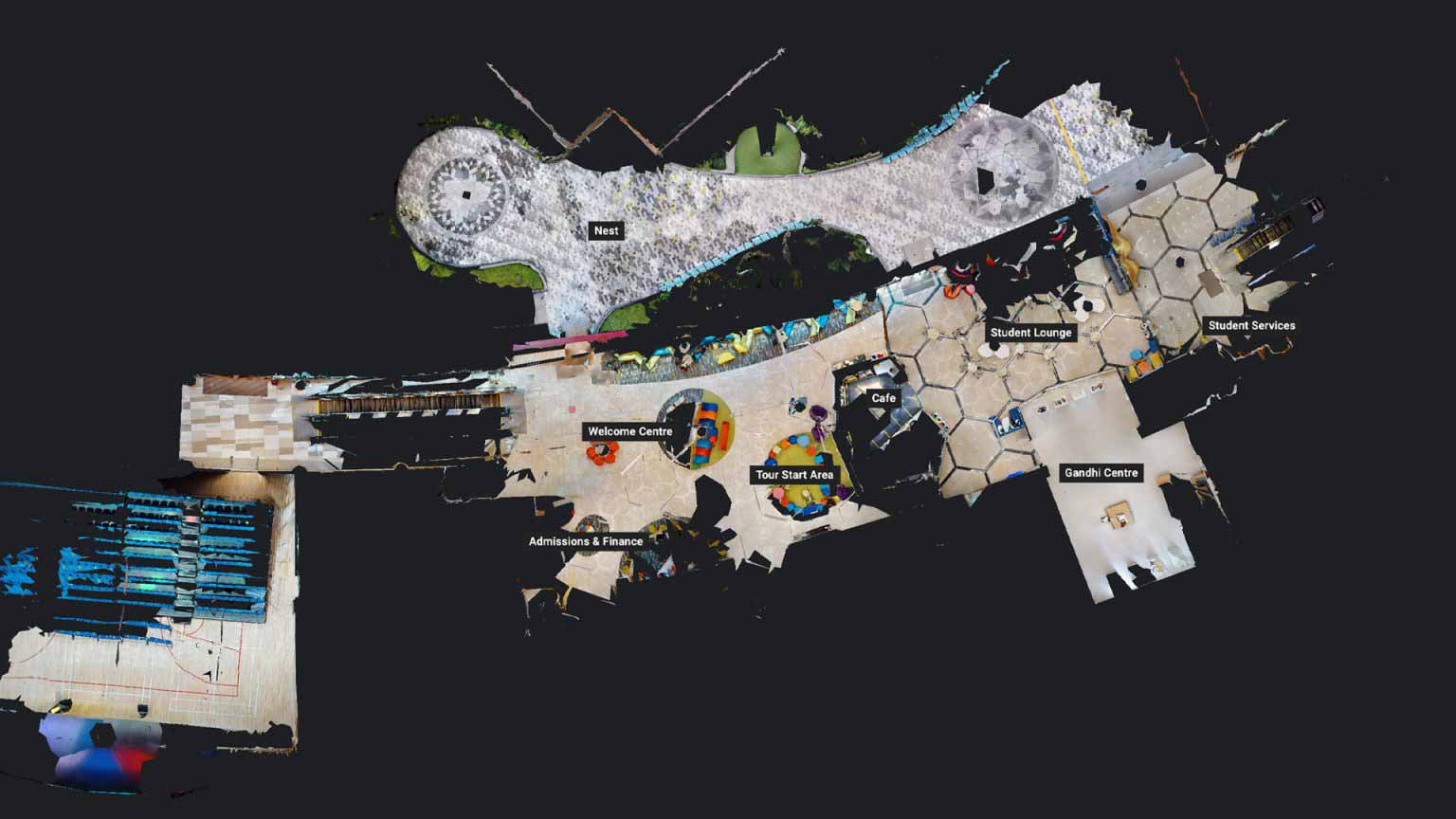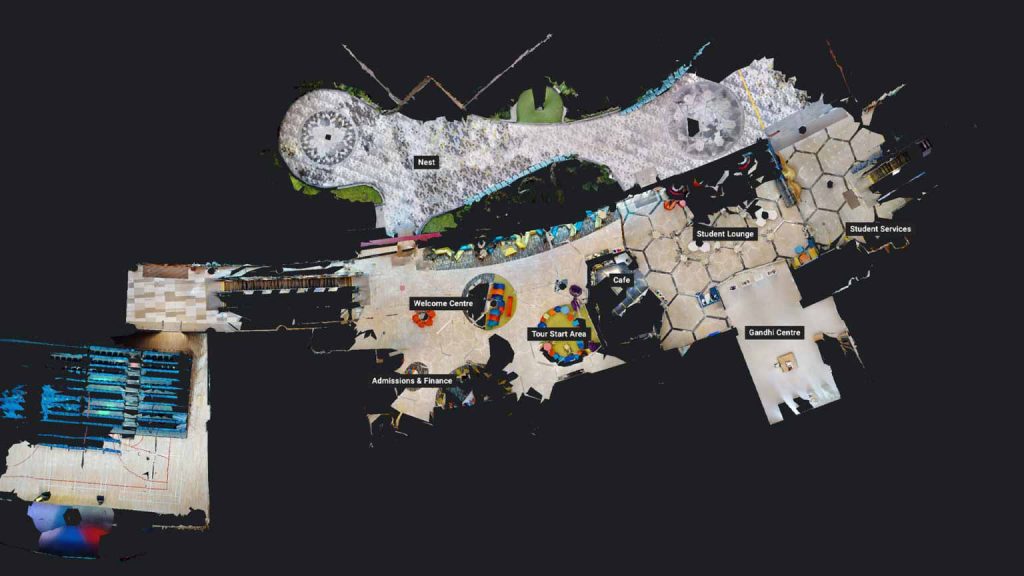 Explore your campus from every angle
With the interactive "dollhouse" and floor plan views, you get a lay of the land and decide exactly what space you want to explore.  Areas are clearly marked with labels so you understand the layout of the campus as a whole. 
Nothing brings your tour to life like photos and videos, so we like to put them everywhere.  Walk into your auditorium and watch a series of past performances.  Venture out to the sports field and watch videos of the athletics action.  Be greeted face to face by members of your school.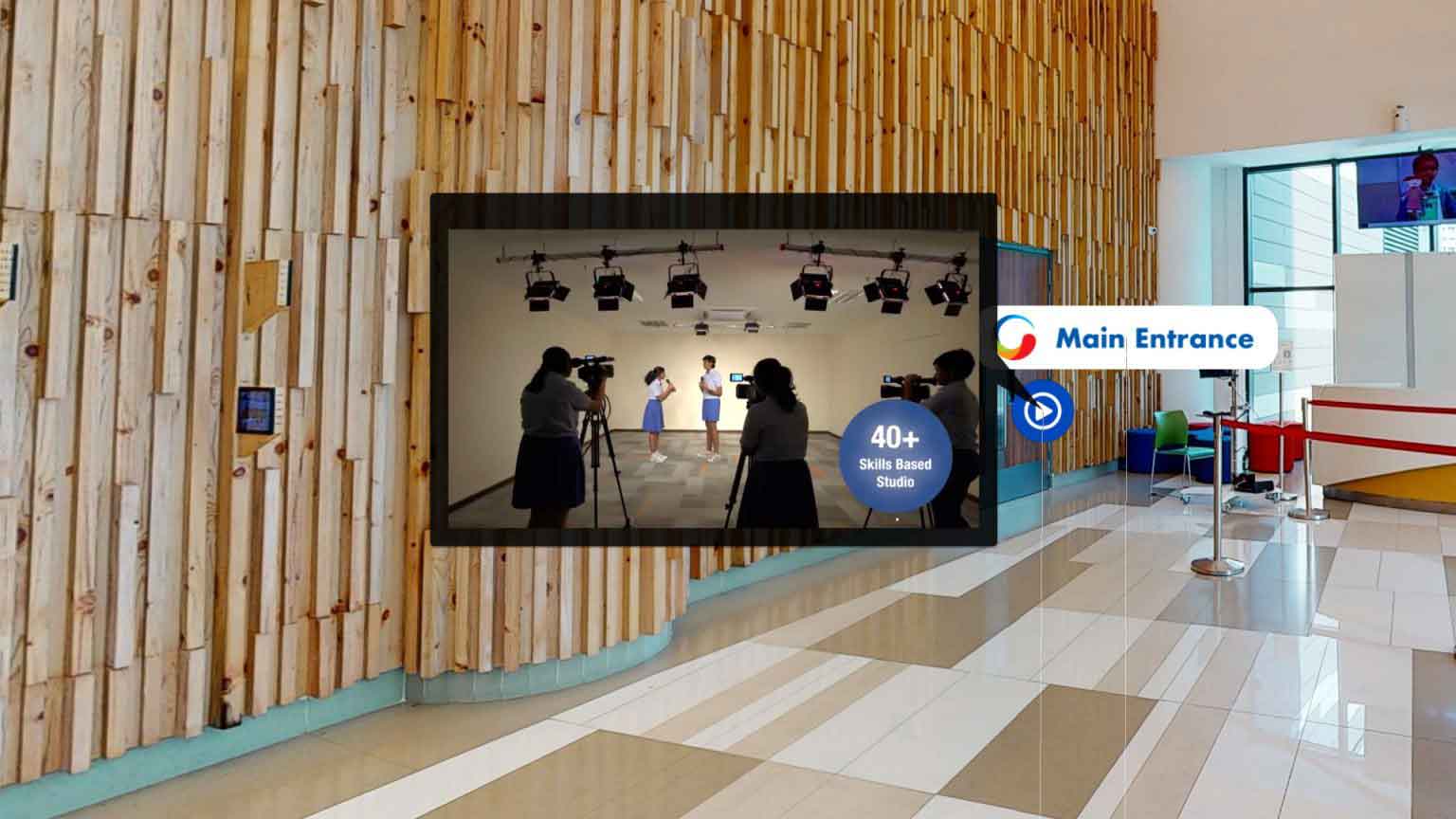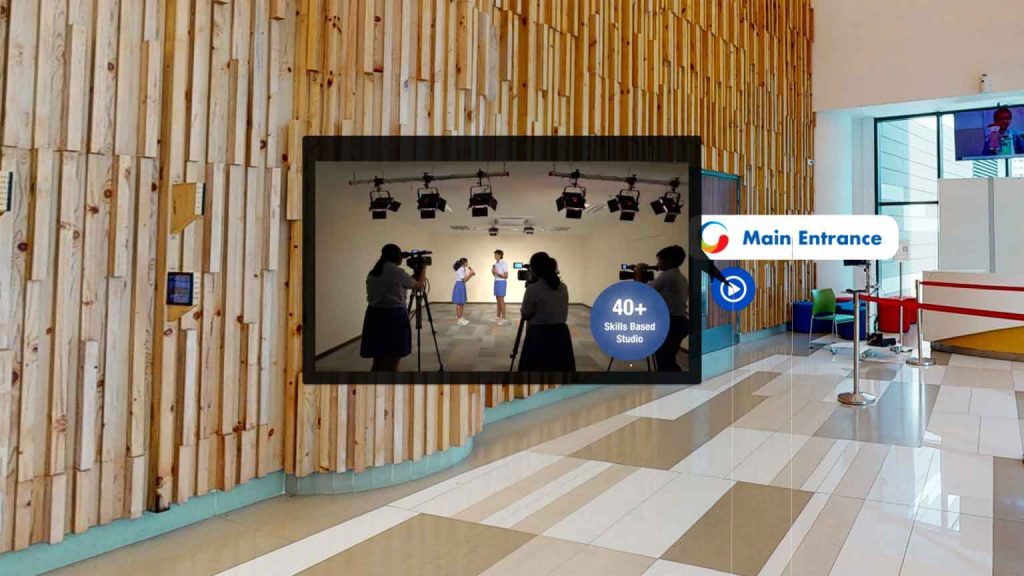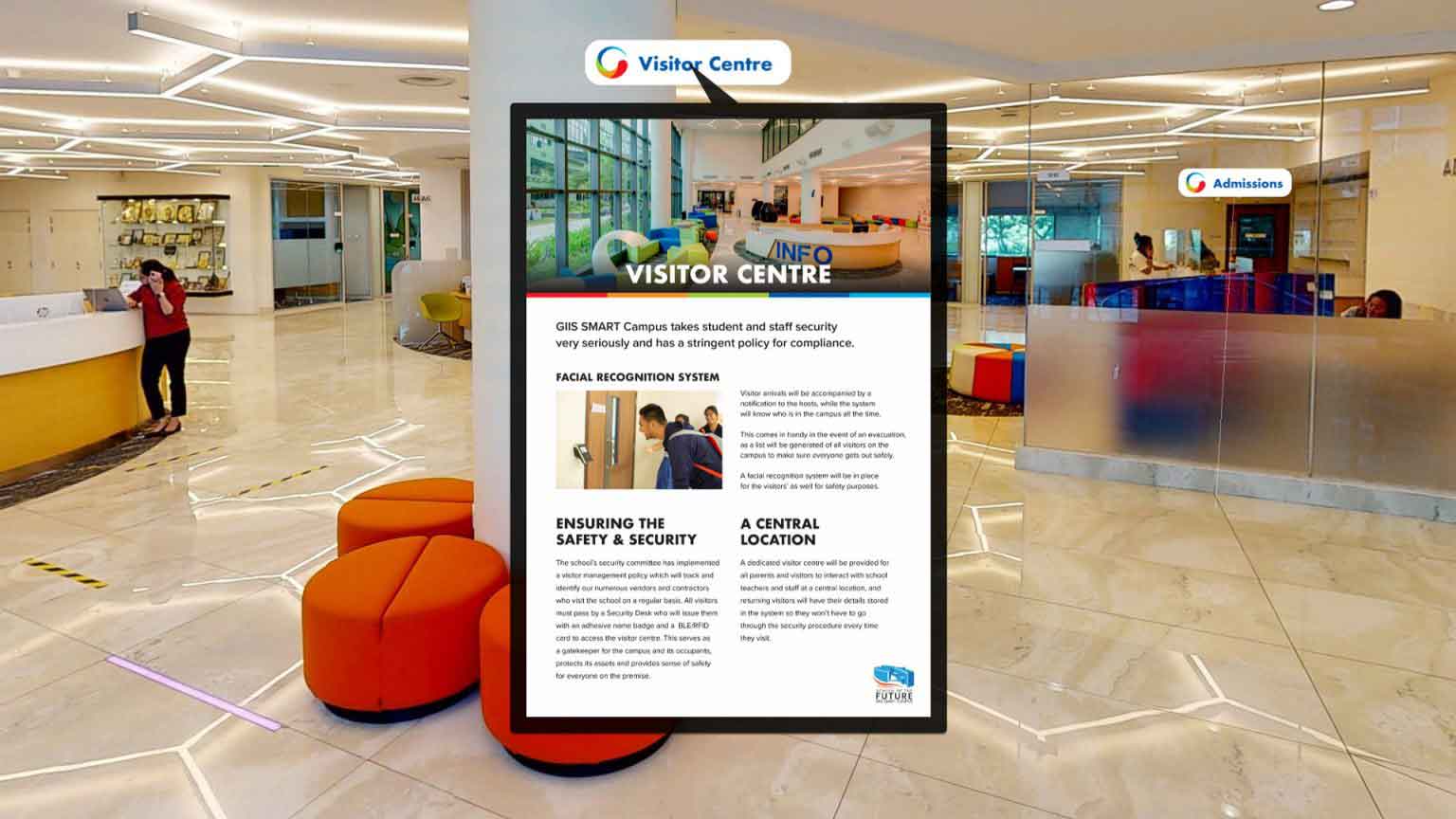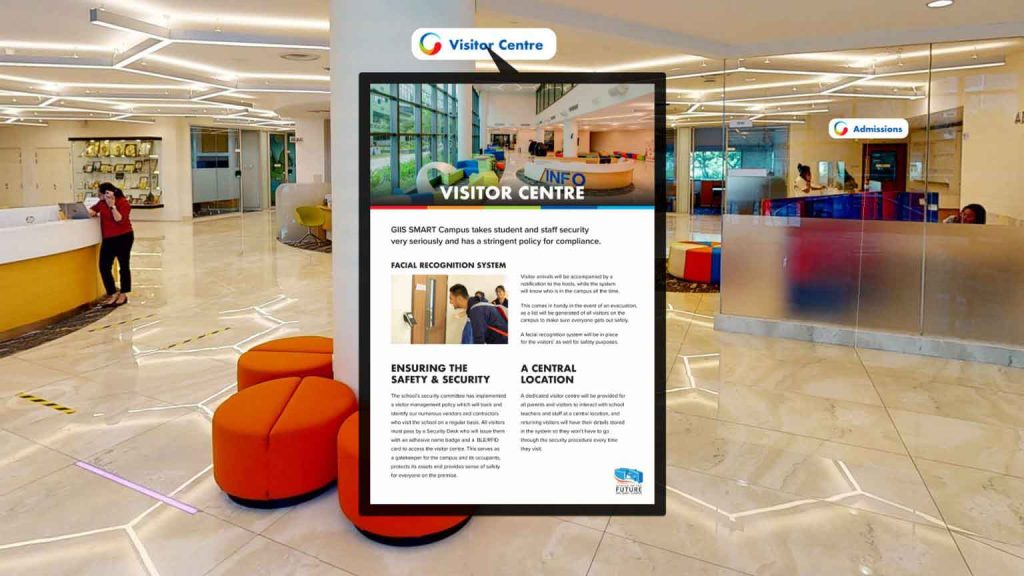 Give your guests as much information as possible during their time exploring your campus.  Let them learn more about your school with infoboxes and web pages right inside the tour.    
Lead generation: take a tour, start a conversation
Set up forms anywhere to record your guests' contact information so that Admissions can follow up with them.  Put forms in the menu, in interactive web pages, in infoboxes, or even right inside your videos!  All this info can be stored and used in Enquiry Tracker, HubSpot or other CRMs for school info systems.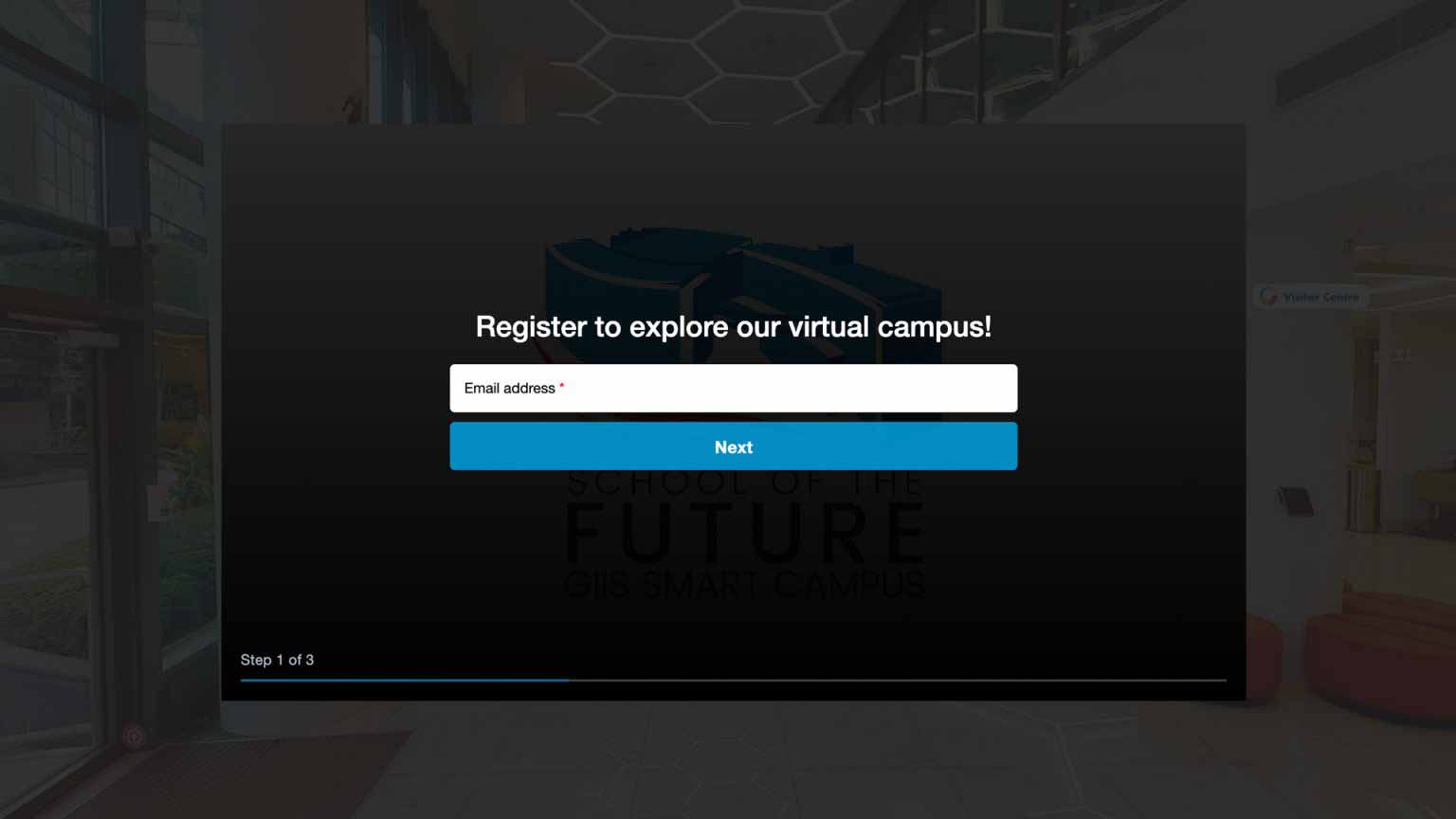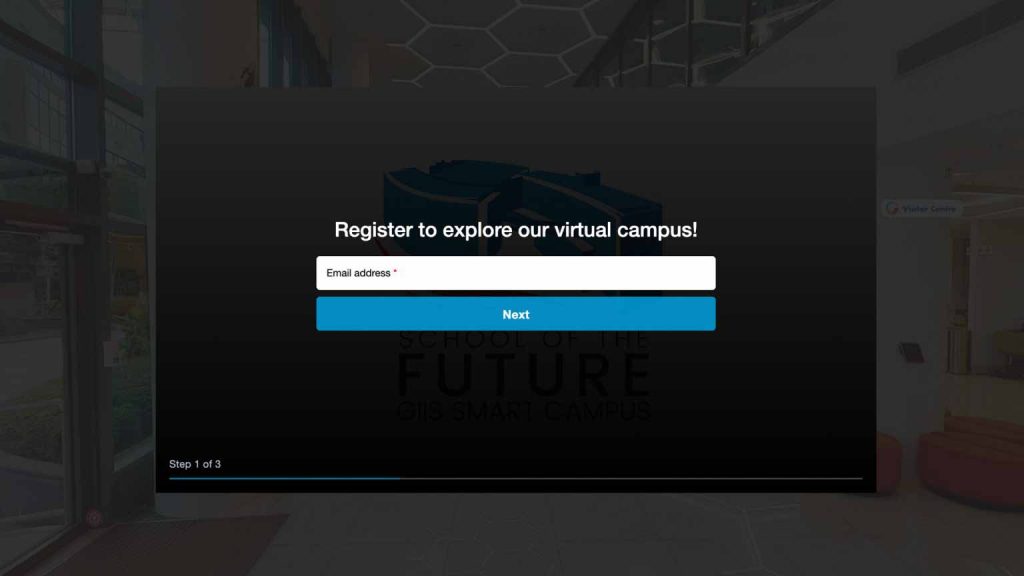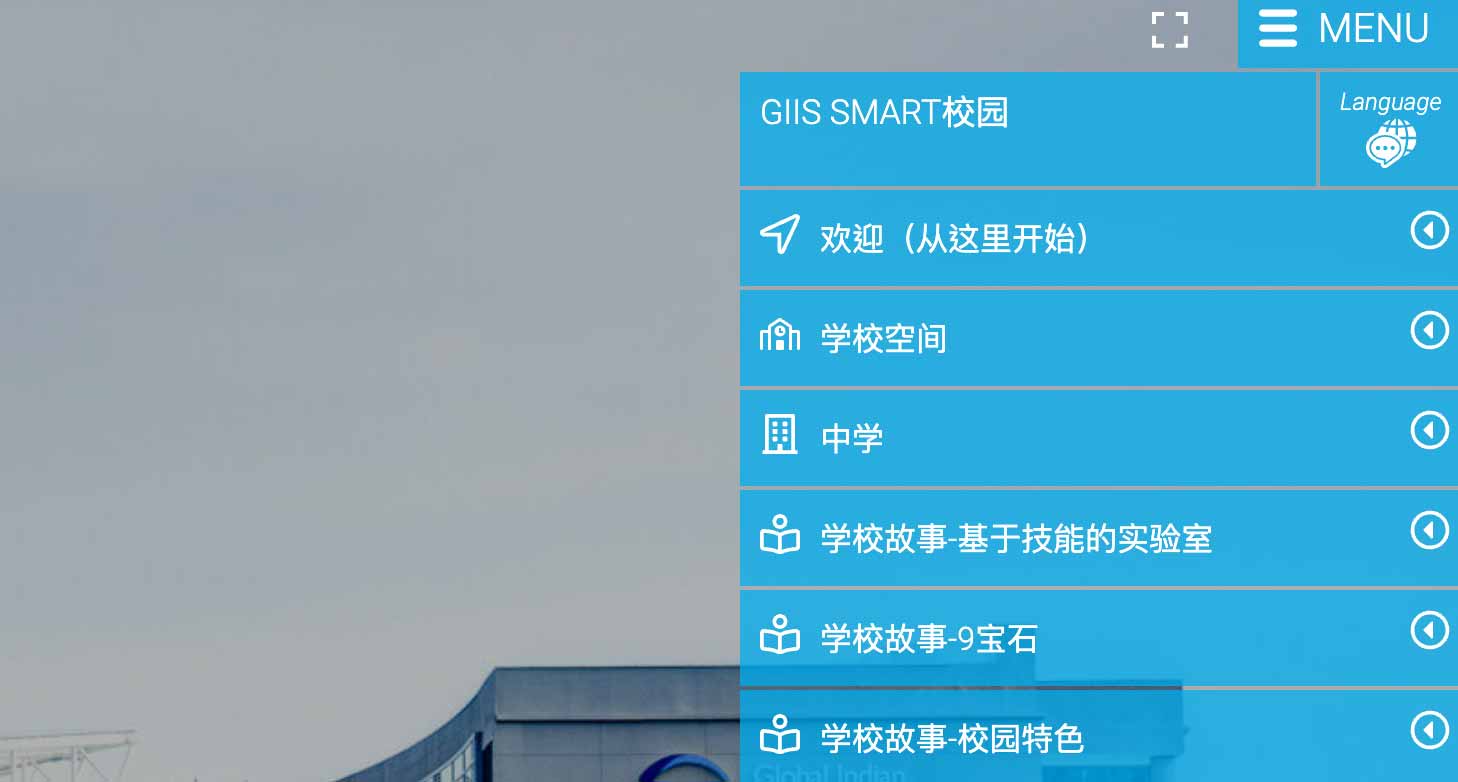 NEW: Multi-lingual tours!
Your students come from all over the world, shouldn't your virtual tour be in their languages too? We can create tours in over 30 languages including Chinese, Japanese, Korean, Hindi, Bengali, Thai, and Arabic, as well as nearly all the European languages. Have as many languages as you want at once as it is super easy to switch between them. Now, that's what we call an international school virtual tour!
Sit back and take a tour of the tour!  In this (rather long) video, we go over all the interactive features including the multilingual menu, navigation design, multimedia, web pages, connected forms, and more.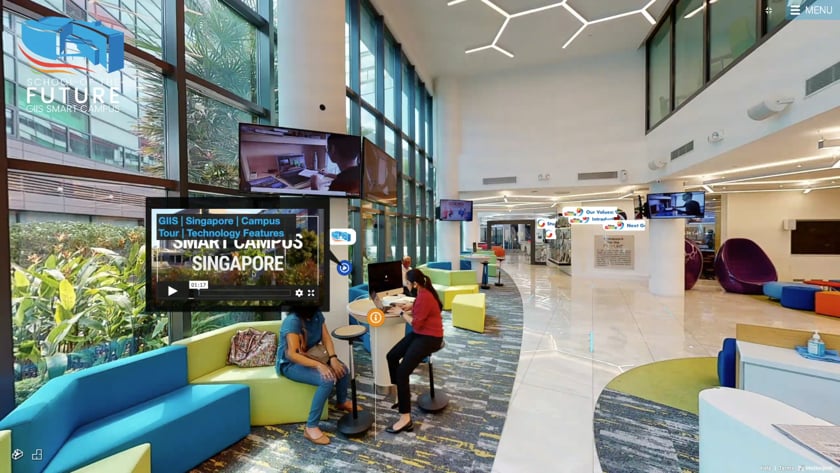 Unlike most virtual tour technology, our tours work like a dream on mobile devices.   
Integrate with Google Street View
Give visitors an easy way to explore your tour by connecting to Google Street View. 
Our virtual tours are not limited to use by prospective families.  Use them for new student orientation, new campus construction updates, special events and more.  
Connect your tour to your Google Analytics account to track visits.  Connect that to Databox to get regular updates.   
Because we work with a wide network of local 3D scanners, we are able to create these virtual tours virtually anywhere. 
New features coming all the time
We work with developers in Europe to constantly launch new features that will further enhance your tour. 
Want Info You Can Take With You?  Download The Ultimate Guide To The Ultimate Virtual Tour
We all like lists.  This guide is chock full of lists of reasons you need a tour, features you need, features you don't want, and 5 key integrations to consider.  
Enough Talk! Ready To
Rock And Roll
Explore
Jump In
?
Test Drive the Virtual Campus Tour of the Future by exploring the School of the Future – GIIS SMART Campus
The Global Indian International School's SMART Campus in Singapore is literally the school of the future. Nowhere have we seen such a high-tech campus built for 21st century education. Test drive our new virtual campus tour and explore this exciting campus.
For the best viewing experience, click on full screen below, and then on the play button to begin:
Big campus or small campus – The Ultimate Virtual Tour can help viewers find their way.
One World International School's Mountbatten Campus in Singapore is a small school perfect for young ones to start their education off right.  Test drive our new virtual campus tour and explore this lovely small campus. 
For the best viewing experience, click on full screen below, and then on the play button to begin:
Our virtual campus tours show off your campus beautifully.  But through the use of video and tech integration, we put PEOPLE and RELATIONSHIPS at the heart of it all, therefore fulfilling our vision and mission to our clients.  
"The SchoolHouse Agency works with some of the top international schools in the world to create results-driven marketing & enrolment strategies by combining the power of video communications with cutting-edge technology to connect real people with real people."
Check out other formats of tours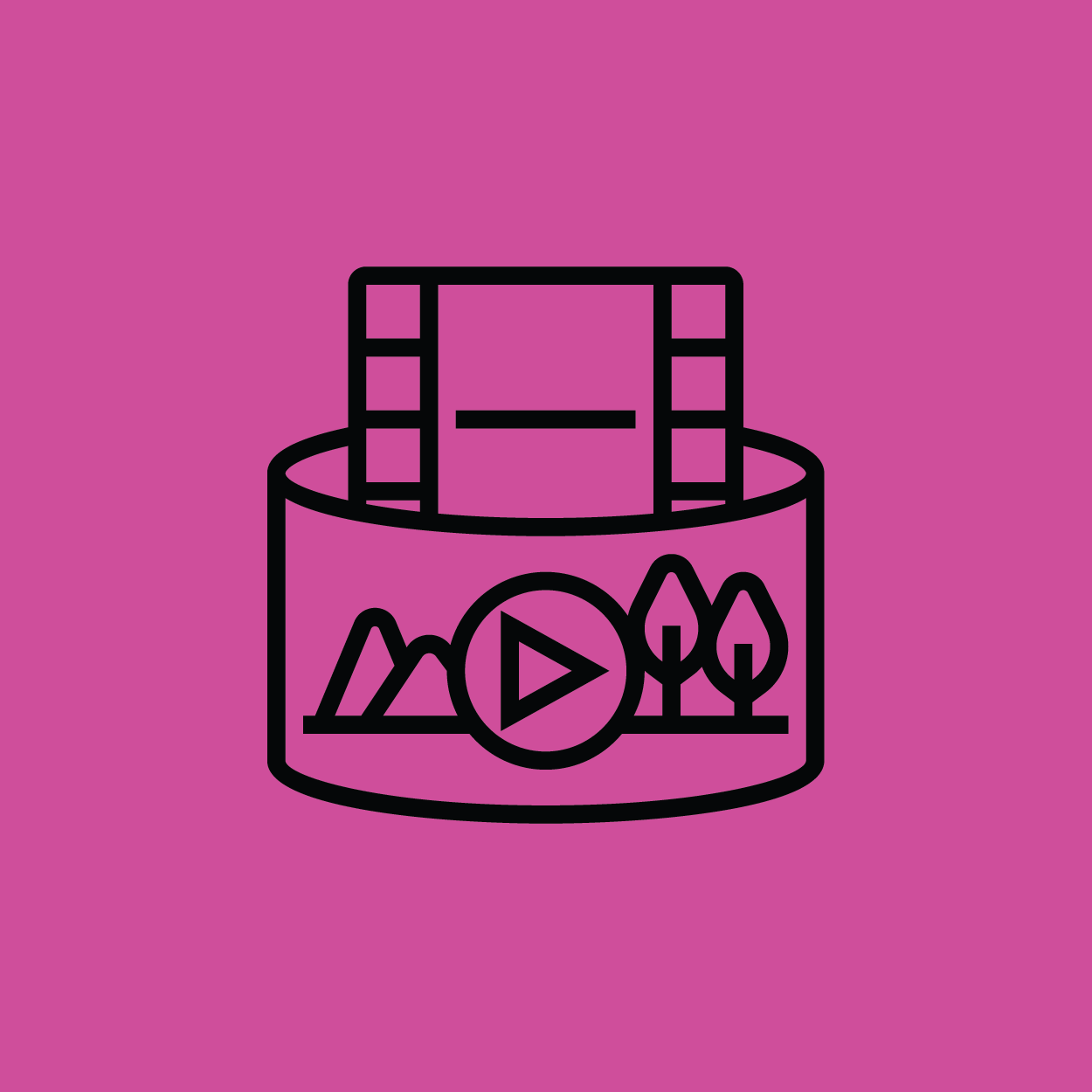 Campus tours lie at the heart of the admissions process. Let's explore some options we have to continue these when it is harder for prospective families to be on campus.
Read More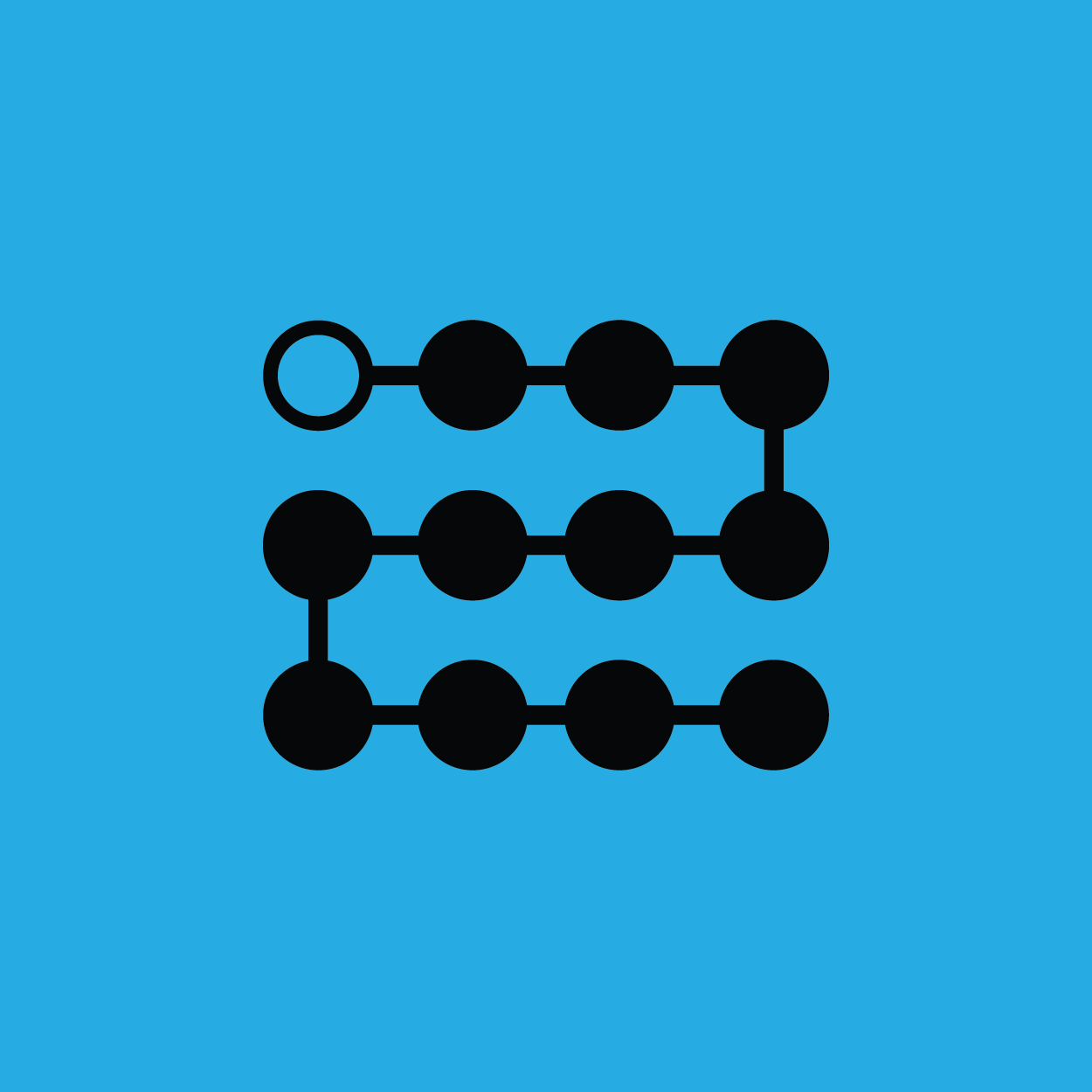 No two prospective families are exactly the same, nor are they looking for exactly the same thing in a new school. It is important to provide an admissions experience that supports each and every unique journey.
Read More